Am.Can.Int.Ch. Foxglove Won't Be Denied, CGC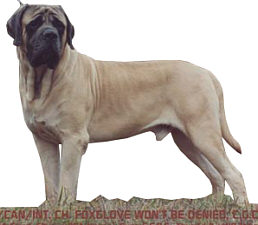 AKC#: WP328545/01    BORN: 12/14/1990    PROVEN: yes
Description:
  COLOR     : fawn			WHITE MARKINGS: none
  MASK      : standard, black ears	COAT          : medium
  HEIGHT    : 33			WEIGHT        : 236
  BITE      : level			EYE COLOR     : dark
  BONE SIZE : huge			TAIL          : short
  ANGULATION: moderate			NAILS         : all black
Health Exams:
  HIPS     : OFA MF-1267G24M		ELBOW: OFEL MF-EL38
  EYES     : CERF MF-305/97-76&96&110
  THYROID  : normal (hemopet 3/98)	vWD  : normal  vWF:Ag: 71%
Temperament: CGC
  ATTITUDE TOWARD OTHER DOGS    : aloof
  ATTITUDE TOWARD STRANGERS     : friendly
  ATTITUDE TOWARD NEW SITUATIONS: at ease

Pedigree:
						-Ch. Caledonia Thurl A
			-Whitakers Duke Of Royalty
						-Whitakers Dutchess Of Deer Run
  SIRE: Ch. Beowulf Of Wheeler's Knoll, CD
          OFA MF661G27M				-Pollyannas Sooner
			-Whitakers Dutchess Of Deer Run
			   OFA MF414		-Deer Run Jerico's Babe

						-Ch. Gulph Mills Mugger
			-Ch. Gulph Mills Mulcher
						-Ch. Greenbranch Macushla
  DAM:  Am.Can.Ch. Gulph Mills Marjorie, CD,CGC
						-Am.Mex.Ch. Kisumu Xavier King Of Iona
			-Ch. Lady Camelot Of Hale, CD
			  OFA MF288-T		-Gulph Mills Jazzy Belle

Comments: 4/98 7/01
"Deny" was #8 in 1992 before his 2nd birthday with 22 B.O.B. wins. Deny is a happy, sweet, soft-hearted dog. He is friendly, playful, and eager to please.
He appears to pass on his bone, size, substance, structure, topline, movement and wrinkle/pigment. He is not as dominant in head style and temperament. His puppies look like him in body and movement, and more like their moms in head and personality. He is a large, athletic mastiff with a large head, nice wrinkle and pigment, dark eyes, good bite, beautiful topline, good front, rear and chest. He has lovely movement coming, going, and from the side. He is very showy and "up." He has lots of substance.
We feel some faults would be his slightly longer muzzle and large, thick ears. He has curled over front toes, and his tail is a little short.
His puppies have, so far, appeared to be sound and happy. He has high-quality frozen semen available.
His parents are "Beowulf", a group winner and top 10 1988; and "Marjorie", #1 B.O.B. and group placing bitch 1988, and 1990's top producing bitch.
We always require of bitches that they be OFA, OFEL, CERF, vWD and thyroid normal.
Deny passed away at the age of 10 1/2, of old age. He was healthy all of his life, and just faded away at the end. He is sorely missed. He did sire a litter after the age of 10 years, and they are lovely.
We do have a large amount of frozen semen stored from Deny, and would consider letting some of it go for use on appropriate, tested bitches of merit.

Published Photographs:
  MCOA Journal, 1992#3, page 42.
  MCOA Journal, 1992#4, page 31.
  MCOA Journal, 1993#1.
  MCOA Journal, 1993#4, page 42.
  MCOA Journal, 1994#3, page 28.
  MCOA Journal, "Special Veterans", 1998#1.

Published Offspring:
  Eldorado Joseph Of Dextor OFAg43
  Ch. Foxglove An Undeniable Alibi OFAf26,CERF
 *Foxglove Bynd Reasonabl Doubt OFAg25,OFEL,CERF6&23
  Foxglove Classic Denial OFAg33,CERF20&35
  Foxglove Deny Everything OFAg32,CERF31
  Int.Am.Can.Ch. Foxglove Graceful D's Boy CERF11
  Foxglove Just Can't Deny-Mi OFAf25,CERF
  Foxglove Just One More OFAf25,OFEL,CERF
  Foxglove Ulterior Motive OFEL,CERF6
  Goldleaf Sir Gielgud OFEL
  Goldleaf Victoria Regina OFAf33
  Ch. Graceful Rosewood Undeniable
  Ch. Iryshe Abby McGee OFAf27,OFEL,CERF44
  Iryshe Molly Malone OFAg25,OFEL,CERF44
  Regal Hill Blackstone Lady OFAg24

Published Full Siblings:
  Ch. Foxglove & Wheelers Praetorian OFAf33
  Ch. Foxglove Hale's New Contender OFAg24
 *Foxglove Lord Sherwood OFAg39,OFEL,CERF

Owner:
  NAME       : Laura & David Hagey
  E-MAIL     : foxglove@epud.net
  KENNEL NAME: Foxglove Mastiffs
  ADDRESS    : PO Box 572,  Springfield, OR 97477
  PHONE      : (541) 744-8169
Breeder: owner