Ch. His Majesty Agincourt Jester, CGC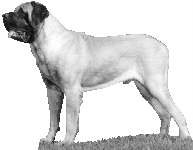 AKC#: WP444551/06    BORN: 10/4/1992    PROVEN: yes
Description:
  COLOR     : fawn		WHITE MARKINGS: none
  MASK      : standard		COAT          : medium
  HEIGHT    : 33		WEIGHT        : 225
  BITE      : level		EYE COLOR     : dark
  BONE SIZE : huge		TAIL          : standard
  ANGULATION: moderate		NAILS         : all black
Health Exams:
  HIPS     : OFA MF-1737F24M, prelim good    ELBOW: OFEL MF-181
  EYES     : CERF MF-/67
  THYROID  : normal		vWD  : normal   vWF:Ag: 110%
Temperament: CGC
  ATTITUDE TOWARD OTHER DOGS    : friendly
  ATTITUDE TOWARD STRANGERS     : friendly
  ATTITUDE TOWARD NEW SITUATIONS: curious

Pedigree:
						-Deer Run Jason
			-Ch. Deer Run River Bull
						-Deer Run Ragtime
  SIRE: Ch. His Majesty's Lion Of Judah
          CERF					-Ch. Deer Run Durango
			-Ch. Deer Run Glory To God, CD
			   CERF			-Deer Run Sarah Of Bristol

						-Huegenes Golden Apollo
			-Ch. Damaria The General
						-Damaria Princess Rhyanon
  DAM:  Ch. Pinewood One Day At A Thyme
						-Ch. Bankhouse Been There Before
			-Ch. Windy Hills Step Aside Girls
						-Ch. Windy Hills Gertrude

Comments: 12/94 - 12/00 AVAILABILITY UNKNOWN
Jester has an outrageous temperament. He loves everyone and everything. He always wants to be the Jester (center of attention) in the Court.
He won Winner's Dog and Best Of Winners at Bucks County Kennel Club NEMF supported entry out of 104 dogs to take a 5 point major. The next day he won Winner's Dog and Best Of Winners at Trenton Kennel Club to another 5 point major. He finished his championship in five shows and has also won "Best Of Breed" over specials from the classes.
He has superior movement, head, bone, type, and temperament. He has been advertised in the MCOA Journal and the North & East Mastiff Fanciers Newsletter. He is one "Class Act" to follow and a 5 star stud male. He is available to approved bitches.
Inquiries Welcomed!

Published Photographs:
  MCOA Journal, 1994#3, page 44.
  MCOA Journal, 1995#3, page 93.
  MCOA Journal, 1996#3, page 70.

Published Offspring:
  Ch. Aljacs Agincrt Sophie's Choice
  Agincourts Jester Bag O Trixs OFAg36,OFEL,CERF
  Windfalls A Stitch In Thyme CERF
  Windfalls Bartholomew Blue CERF
  Windfalls Hamlets Heratio CERF
  Windfalls Max A Million CERF
  Windfalls Nelli CERF
  Windfalls Risk Rewarded OFAg25,OFEL,CERF
  Windfalls Triton OFAg24,OFEL,CERF

Published Full Siblings:
  Ch. His Majesty's Adam Ben Judah, CGC OFAf26,OFEL,CERF
  His Majesty's Banner Of Glory CERF
  Ch. His Majesty's Bruna Lea OFAg32,OFEL
  Ch. His Majesty's Georgics Poet, CGC OFAf24,OFEL,CERF
  Ch. His Majesty's Ginger Bread OFEL
  Ch. His Majesty's Jireh Ben Judah OFAf26,CERF
  Ch. His Majesty's Pinewood Azekiel
  Ch. Pinewoods Caesar Augustus OFEL
  Ch. Pinewoods Cover Girl OFAg36
  Ch. Pinewoods Good Vibrations OFAg29,OFEL
  Pinewoods Granite State Lilac OFAg38
  Ch. Pinewoods His Maj. Holy Moses OFAe24,OFEL,CERF
  Pinewoods Irish Cream OFAf32,OFEL
  Ch. Pinewoods Mighty Quinn OFAf27

Owner:
  NAME       : Jennifer V. Modica
  KENNEL NAME: Agincourt Country Kennels
  ADDRESS    : 175 Stagecoach Rd,  Cape May Court House, NJ 08210
  PHONE      : (609) 463-0534
Breeder: C. Hehir & E. Gomez