Ch. Lamars JJ Wilder, CGC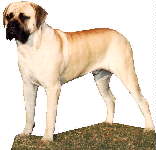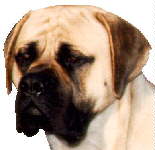 AKC#: WP386576/02     BORN: 9/17/1991    PROVEN: yes
Description:
  COLOR     : fawn			WHITE MARKINGS: none
  MASK      : standard			COAT          : short
  HEIGHT    : 30			WEIGHT        : 175
  BITE      : slightly undershot	EYE COLOR     : medium
  BONE SIZE : medium			TAIL          : standard
  ANGULATION: moderate			NAILS         : all black
Health Exams: 
  HIPS      : OFA MF-1430G24M and GDC2106H14N
  ELBOW     : OFEL MF-EL435		HEART	      : OFA MF-CA743/148M/P-PI
  EYES      : CERF MF-882/96-21&95	PATELLA       : OFA MF-PA870/148/M/P-PI
  THYROID   : OFA MF-TH114/89M		vWD           : normal vWF:Ag: 130%
  PRA DNA   : Homozygous Normal (clear)
Temperament: CGC
  ATTITUDE TOWARD OTHER DOGS    : aloof
  ATTITUDE TOWARD STRANGERS     : friendly
  ATTITUDE TOWARD NEW SITUATIONS: at ease

Pedigree:
						-Ch. Stonebrook Southports Byron
			-Ch. Southports Black Orpheus
			   OFA MF417		-Deer Run Samantha IV
  SIRE: Lamar's Brandon Le'Moose
	 GDC Hips				-Ch. Deer Run Lancaster
			-Deer Run Brandy Ann
						-Ch. Deer Run Tiffeny

						-Ch. Gelwil's Alexander
			-Ch. Gelwil's Brandy Alexander
			   OFA MF573F24M,CERF	-Buffy's Apricot Brandy
   DAM: Knightsens Muir Oaks Sophie
						-Ch. Stonebrook Southports Byron
			-Ch. Knightsens Sophies Choice
						-Meredith's Sadie Baby

Comments: 12/96 - 9/02 NO LONGER AVAILBALE FOR STUD
He now has his Canine Health Information Center (CHIC) certificate.
Outstanding friendly temperament passed on to his offspring. Finished championship at 12 months of age. Best Of Breeds and a Group Placement by the age of 13 months. Not the largest dog, simply the best structured head type, top line, movement, and solid built. Repeat breeding resulted in 2 more championships.
Requirements for bitches: OFA certified hips and elbows, CERF examined eyes, brucellosis negative, and preferably some height (not absolutely necessary as he throws larger than himself).
DNA Profile #V36491

Published Photographs:  MCOA Journal 1993#4 page 73.
Published Offspring:
  BriteStar's Barrister OFAe26,OFEL
  Ch. Dover's First Addition OFAf26,OFEL,CERF
  Dover's I Love Lucy
  Ch. Dover's King Mufasa OFAg28
  Dover's Mercedez Benz
  Ch. Dover's Samson The Great OFAg26,CERF
  Forest Ranch D's Canaao OFAg26,OFEL
  Kingmont's Dynamite Delite, CGC OFAg31,OFEL,CERF34
  Lamar's Canterbury Tails CERF
  Ch. Lamar's Class-C Winnebago CERF
  Ch. Lamar's Kahlami Daniel OFAg102
  Ch. Lamars Mah-velous Magdelenda OFAg30,OFEL,CERF
  Ch. Lamar's Molly Dolly Brite Star OFAg27,OFEL
  Lamar's Sunny Delight OFAg25,OFEL,CERF
  Ch. Lamars Tank OFAf37
  Int.Ch. Lone Oak's Tug O War, CGC OFAg24,OFEL,CERF
  Ch. Sat 'N' Sassy OFAg25,OFEL,CERF
  Sugarfoot Blackstone Classic OFAg38,OFEL
  Sugarfoot Mack Daddy
 
Published Full Siblings:
  Ch. Lamar's Risky Roscoe Rascal
  Ch. Lamar's Sassy Sandy Savy OFAg29

Owner:
  NAME       : Margo Lauritsen
  E-MAIL     : lamars3@aol.com
  WEB PAGE   : http://www.phat928.com/lamars/
  KENNEL NAME: Lamars
  ADDRESS    : 2512 Vineyard Ave,  Pleasanton, CA 94566
  PHONE      : (925) 426-2430
Breeder: J. & M. Dryden