Lyonhurst Salacious Simon, CGC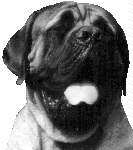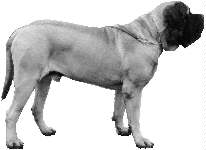 AKC#: WP484577/01     BORN: 5/6/1993     PROVEN: yes
Description:
  COLOR     : dark fawn			WHITE MARKINGS: small spot on chest
  MASK      : standard, black ears	COAT          : short
  HEIGHT    : 30 1/2			WEIGHT        : 180
  BITE      : slightly undershot	EYE COLOR     : medium
  BONE SIZE : large			TAIL          : standard
  ANGULATION: moderate			NAILS         : all black
Health Exams:
  HIPS     : OFA MF-1998G26M		ELBOW  : OFEL MF-EL282
  EYES     : CERF MF-624/95-27		PATELLA:
  THYROID  : low-normal			vWD    : normal   vWF:Ag: 73%
Temperament: CGC
  ATTITUDE TOWARD OTHER DOGS    : friendly
  ATTITUDE TOWARD STRANGERS     : tentative
  ATTITUDE TOWARD NEW SITUATIONS: curious

Pedigree:
						-Ch. Deer Run Wycliff
			-Ch. Deer Run Josh Of Bull Valley
						-Tasha Farley's First Lady
  SIRE: Ch. Lord Valerian Of Lyonhurst
						-Ch. Sir Taurus Of Azuredee
			-Ch. Bradywine's Ragamuffin
 						-Brandywine's Kelly Of Navonod

						-Ch. Lord Valerian Of Lyonhurst
 			-Lyonhurst Roc Of Castlemount
						-Kodiak's Magnum
  DAM:  Lyonhurst Home Again Hildy
          OFA MF1466G27F			-Ch. Lord Valerian Of Lyonhurst
			-Lyonhurst Forever Amber
			     OFA MF1159G51F	-Kizzamore My Lady

Comments: 11/95 as of 7/98 NO LONGER AVAILABLE AS A STUD DOG
"Simon" is the result of four generations of tightly line-bred Lyonhurst dogs. His sire, Ch. Lord Valerian Of Lyonhurst, a.k.a. "Doc" (also his great-grandsire twice) was one of Ch. Brandywine's Ragamuffin's litter that produced seven champions. Simon is from one of two litters sired by Doc at the age of 10 years, after a 5 year period of retirement, which is an excellent indicator of the virility of this bloodline. Because he is so tightly bred, Simon should easily pass along his qualities to his offspring.
Simon moves beautifully and his muscle tone gives a distinct feeling of contained power. He has a temperament lacking in aggression yet he is one of the first to give warning of visitors. He is presently visiting a local nursing home on a regular basis where his gentle reserve has made him quite the favorite. He has a Canine Good Citizenship certificate and we are presently working for his TDI. He gets along great with other dogs and is especially fond of puppies.
Simon is a genetically sound dog. He has OFA good hips and clear elbows, CERF clear eyes, is thyroid normal, and von Willabrand's negative. He is a large, well put together dog when viewed from any angle. He is broad both front and rear. He has beautiful head type, good tail set, compact feet with well arched toes, and a lovely expression. He has an abundance of pigment, with dark coloring continuing to his ears. If I had to fault Simon anywhere, I would prefer a somewhat darker eye color. Although his angulation is adequate, I would personally like to see just a bit more bend to the stifle.
On the whole, if you are looking to add more size, soundness and movement, this is a dog to consider. Any interested parties should send photos and pedigree of their bitch along with copies of any testing that has been done and those results. We have an ICG certified center nearby if traveling is a problem.

Owner:
  NAME       : Bonnie C. Faulstich
  E-MAIL     : lyonhurst@attbi.com
  KENNEL NAME: Lyonhurst
  ADDRESS    : 1201 W. 22nd Street,  LaPorte, IN 46350
  PHONE      : (219) 326-7952
Breeder: owner