Ch. Grandeur's MacLeoghann Legend, CGC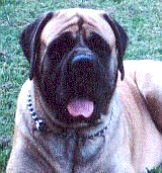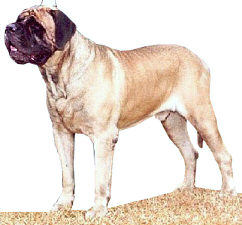 AKC#: WP699051/01     BORN: 4/18/1996     PROVEN: yes
Description:
  COLOR     : fawn			WHITE MARKINGS: none
  MASK      : standard, black mask	COAT          : short
  HEIGHT    : 34			WEIGHT        : 230
  BITE      : scissors			EYE COLOR     : very dark
  BONE SIZE : large			TAIL          : standard
  ANGULATION: moderate			NAILS         : all black
Health Exams:
  HIPS      : OFA MF-3060F24M-T, prelim good	ELBOW     : OFA MF-EL879-T
  EYES      : CERF				PATELLA   : OFA MF-PA195/24M/M/P-T
  THYROID   : normal				vWD       : normal   vWF:Ag: 170%
  HEART     : OFA MF-CA144/24M/P-T		CYSTINURIA: normal
Temperament: CGC
  ATTITUDE TOWARD OTHER DOGS    : playful
  ATTITUDE TOWARD STRANGERS     : friendly
  ATTITUDE TOWARD NEW SITUATIONS: curious / confident

Pedigree:
						-Ch. Groppetti Beauregard
			-Ch. Groppetti Sir Arthur, TT
			   OFA MF634F36M,CERF	-Ch. Groppetti Pegasus
  SIRE: Altom's General MacArthur
          OFA MF2711G40M			-Ch. Gulph Mills Magnum Force
          		-Ch. Altom's Timber Georgia Peach
			   OFAg MF1271G29F,OFEL	-Ch. Altom's Mischevious Molly

						-Gourley's Big Foot Muggs
			*Ch. Donna's Master Samson, CGC
			   OFEL			-Barker's Lori Beth
  DAM:  Ch. Precious Ariel Of Grandeur, CGC
						-Ch. GG's Magnificent Percivale, CD
			-Ch. GG's Classic Countessa
			   OFEL			-Ch. Rocky Hill Greystone Genesis, CD

Comments: 9/02
MacLeoghann (pronounced Maclowen) is a Gold Five Star Mastiff as is his litter sister Nana Grace Of Grandeur. His litter brother holds an International Championship. Mac produces wonderful consistency in his offspring. He has sired 9 litters from 7 different bitches from 6 different bloodlines. In these litters Mac has reproduced himself in his offspring. From these litters he has produced soundness, good bone, muscle mass, typey head, breed type, moderate angulation, strong fronts with prominent forechest, good pigmentation, and parallel hockset. So far his children, from different litters, are passing genetic testing.
We have been blessed with good longevity of life. We lost Mac's grandfather at age 10+1/2, his grandmother at age 12+1/2, Mac's mother at age 11, and his aunt at age 10.
MacLeoghann is only available to genetically tested, approved bitches owned by responsible breeders who take care their puppies are placed into good homes. Puppymills need not inquire.

Published Full Siblings:
  Grandeur's Precious Moments OFAf28,OFEL,CERF
  Chilean Ch. Grandeurs Tn Smokey Mtn Melody CERF
  Grandeur's Warrior Poet CERF
  Hailstone's Spirit Of Grandeur OFEL,CERF
  Nanna Grace Of Grandeur OFAg24,OFEL,CERF
Published Offspring:
  Northampton Ivan OFEL
  Ch. Northampton Maudine Ormsby OFAg27,OFEL
  Northampton Miss Molasses OFAg27,OFEL
  Northampton Unarmed Fawn Female CERF
  Northampton Unarmed Fawn Male CERF
  Von Himmel Verlobung In Wien OFAg27,OFEL  

Owner:
  NAME       : Donna Dick
  E-MAIL     : dondick@charter.net
  KENNEL NAME: Grandeur
  ADDRESS    : 221 Brandon Rd, Martin, TN  38237
  PHONE      : (901) 588-0078
Breeder: owner