Ch. Groppetti G'nghis Razzmatazz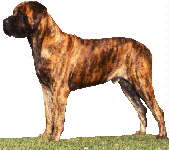 18 months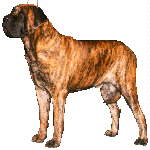 3 years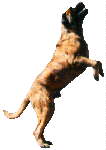 AKC#: WP534696/10     BORN: 1/3/1994    PROVEN: yes
Description:
  COLOR     : apricot brindle		WHITE MARKINGS: none
  MASK      : standard, black ears	COAT          : short/medium
  HEIGHT    : 34			WEIGHT        : 224
  BITE      : scissors			EYE COLOR     : dark
  BONE SIZE : large			TAIL          : standard
  ANGULATION: moderate			NAILS         : all black
Health Exams:
  HIPS      : OFA MF2725F33M-T		ELBOW  : OFEL MF-EL672-T
  EYES      : CERF43  (folds)		PATELLA: OFA MF-PA74/33/M-T
  THYROID   : OFA MF-TH10/33M-T		vWD    : normal
  CARDIAC   : OFA MF-CA35/33M/S-T
Temperament: not tested
  ATTITUDE TOWARD OTHER DOGS    : friendly
  ATTITUDE TOWARD STRANGERS     : aloof
  ATTITUDE TOWARD NEW SITUATIONS: at ease

Pedigree:
					-Ch. Deer Run Wycliff
			-Ch. Deer Run Durango
					-Dunamase Augusta Wind
  SIRE: Ch. Deer Run Lido Genghis Cohen
					-Ch. Glynpedr Tizer
			-Deer Run Sarah of Bristol
					-Deer Run Capra

					-Ch. Deer Run Wycliff
			-Ch. Deer Run Oscar Budhollow
					-Deer Run Philipa
  DAM: Deer Run Bettin
					-Ch. Deer Run Durango
			-Deer Run Bernice
					-Camelot's Fiesty Lady

Comments: 8/97, 1/00
This big guy finished quickly as a youngster and came home to grow up and await testing. Razz has several Am. and Can.Ch. and pointed offspring and throws brindle coloring, no matter what the color of the bitch.
Razz is confident and friendly when approached, but does not solicit attention from strangers. He adores children and smaller dogs. He is very athletic, and would be an asset to any soccer team with his boomer ball! He's as comfortable on his hind legs as all four legs.
From what we can tell, he is throwing terrific fronts, cat feet, length of back, size, topline, movement and scissor bites. Also, very boisterous, athletic babies… a little on the wild side like dad.
Razz must have a bitch with a strong, short muzzle. She must also be health tested.

Published Offspring:
  Beowulf's Cinder To The Top
  Beowulf's Kickin Ash CERF
  Kemlas Beowulfs Sequoia CERF
  Ch. Kemlas Dixieland Jazz OFAg26,OFEL,CERF
  Kemlas Ms'sippi Magnolia OFEL,CERF
  Ch. Kemlas Precious Puttitat OFAg24,CERF
  Kemlas Windswept's Prime Cut

Published Full Siblings:
  Groppetti Bettin Cohens Girl
  Groppetti Black G'Angus
  Groppetti Lena
  Ch. Groppetti Ms Kizzi OFAg37
  Groppetti Nolen's Blackjack

Owner:
  NAME       : Renice A. Zimmerman and Kathy Wanless
  E-MAIL     : razman@vicksburg.com
  KENNEL NAME: Eisenstolz
  ADDRESS    : 116 Botlino Dr.,  Vicksburg, MS 39180
  PHONE      : (601) 636-5287
Breeder: D. Kraft