Ch. Watney's Kingmont Red Barrel, CGC,TDI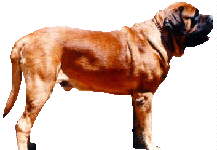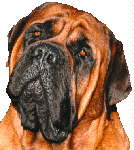 AKC#: WP485552/07    BORN: 5/25/1993   PROVEN: yes
Description:
  COLOR     : apricot				WHITE MARKINGS : chest
  MASK      : standard, black ears 		COAT           : medium
  HEIGHT    : 31				WEIGHT         : 220
  BITE      : scissors				EYE COLOR      : medium
  BONE SIZE : large				TAIL           : standard
Health Exams:
  HIPS      : OFA MF-1930G24M			ELBOW : OFEL MF-EL538
  EYES      : CERF MF-878/81			HEART : OFA MF-CA38/43/MC
  THYROID   : OFA MF-TH32/48-T			vWD   :
  PATELLAS  : OFA MF-PA93/45/M
Temperament: CGC,TDI
  ATTITUDE TOWARD OTHER DOGS     : friendly
  ATTITUDE TOWARD STRANGERS      : friendly
  ATTITUDE TOWARD NEW SITUATIONS : at ease
Pedigree:
					-Ch. Iron Hills Warwagon
			-Ch. Brite Star's Warlock
					-Ch. Groppetti Brite Star
  SIRE: Ch. Brite Star's Storm Trooper
					-Ch. Groppetti Beauregard
			-Ch. Brite Star's Crystal
					-Ch. Groppetti Electra

					-Am.Eng.Ch. Arciniega's Lion, TT
			-Arciniega's Mystical Sabbath
					-Int.Ch. Groppetti Arciniega Saba
   DAM: Omar V. Herman Babs
					-Chance
			-Omar V. Herman Darby
					-Justamere Lady Anatola Lenor

Comments: 3/06
Watney died at 11 years of age, but I do have frozen semen which was recently used to produce a litter of 13.
He produced many beautiful babies, with the same loving disposition he had. His temperament was fantastic, and he enjoyed his work as a therapy dog. He had a deep red color and a beautiful, huge head. His best feature was his movement - especially from behind. He also had a perfect topline.
Frozen semen available to approved bitches.

Published Offspring
  Brite Star's Aspen Gold OFAf24,OFEL,CERF48
  Brite Star's Mistical Illusion
  Brite Star's Roxy
  Brite Star's Tallulah
  Ch. Brite Star's Winter Dream CERF23
  Dante Of English Hills OFAg25,OFEL,CERF32
  Dover's Red Barrel Strangler
  Durdens Brindle Brandie
  Gentle Genie
  Gunther Kingmont OFAg28,OFEL,CERF
  Kingmont's Amber Ale CERF53
  Kingmont's Aprikose Lady OFAg25,OFEL
  Kingmont's Brutus Of Wilton
  Kingmont's Camelot Beast OFAg24,OFEL,CERF
  Kingmont's Handsome Samson
  Kingmont's Hipolitos Tatonka
  Kingmont's IPA Savanah CERF
  Kingmont's Lady Roxanne
  Kingmont's Luscious Logan OFAg28,OFEL,CERF
  Kingmont's Moon Shadow OFAg25,OFEL
  Kingmont's Peggy Sue OFAg32,OFEL
  Ch. Kingmont's Rachmaninoff OFAg25,OFEL
  Kingmont's Royal Elizabeth OFEL
  Kingmont's Sadie Jane OFAg25,OFEL
  Mt Olympus Crimson Aurora OFAg26,OFEL,PRADNA
  Sierra Saint James
  Sir Winston Of Braveheart
  Ch. Sir Winston Of Kingmont OFAf25,OFEL

Published Full Siblings
  Kristy's Bitsy Companion

Owner:
  NAME        : Nanci L. Manceau
  KENNEL NAME : Kingmont Mastiffs
  ADDRESS     : 3463 Kingmont Dr,  Loomis, CA 95650
  PHONE       : (916) 652-7137
  E-MAIL      : kingmontmastiffs@ncbb.net
Breeder: owner & R. Leyes