Intl.Am.Can.Ch. Windy Mts Mighty Tonka, TT,CGC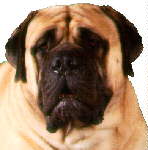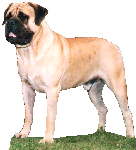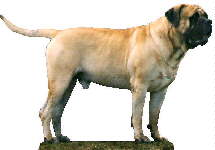 4 years

  AKC#: WP604725/01     BORN: 01/11/1995    PROVEN: yes
Description:
  COLOR     : fawn			WHITE MARKINGS: chest
  MASK      : standard, black ears	COAT          : short
  HEIGHT    : 30			WEIGHT        : 190
  BITE      : slightly undershot	EYE COLOR     : dark
  BONE SIZE : large			TAIL          : standard
  ANGULATION: moderate			NAILS         : all black
Health Exams: 
  HIPS      : OFA MF2537E24M		ELBOW         : OFEL MF-EL557
  EYES      : CERF MF-734/97-24		PATELLA       : OFA MF-PA92/24/M
  THYROID   : OFA MF-TH22/24M normal	vWD           : normal  vWF:Ag: 81%
  CARDIAC   : OFA MF-CA46/24M/P		Cystinuria    : negative
  PRA DNA   : Homozygous Normal (clear)
Temperament: TT,CGC
  ATTITUDE TOWARD OTHER DOGS    : friendly
  ATTITUDE TOWARD STRANGERS     : friendly
  ATTITUDE TOWARD NEW SITUATIONS: at ease
Pedigree:
					-World.Am.Ch. Groppetti Wallon, TT
			-Ch. Arciniega's Moonstone Argus
					-Ch. Arciniega's Abra
  SIRE: Am.Can.Ch. Moonstone's Coaltraine
          OFA MF1357G28M		-Bigfoots Mr Outlaw Man
			-Moonstone's Evangeline
					-Moonstone's Jole Blon

					-Ch. Arciniega's Moonstone Argus
			-Ch. Saratoga Floyd
					-Northwood Rose Mystique
   DAM: Intl.Am.Can.Ch. Moonstone's Amazing Grace
          OFA MF1539G24F,CERF		-Ch. Moonstone's Darius The King
			-Ch. Moonstone's Heather U Promised
					-Gulph Mills Madison Park

Comments: 8/05
Tonka is a multiple Best of Breed winner who achieved all of his titles (International, American and Canadian Championships and Temperament Test) by the age of 18 months. At the MCOA National Specialty in St. Louis in 1996, Tonka was first in the 15-18 month sweepstakes, first in 15-18 months Futurity and Reserve Junior in the Futurity. He is in the MCOA Hall of Fame.
Tonka is a sound, well-balanced Mastiff with outstanding movement with powerful drive and good reach. Tonka has a wonderful temperament, very loving to all, and is very bright. His health is exceptional, as evidenced by the possession of the permanent MCOA Gold Health Award.
Please visit the Stellar Mastiff website http://www.stellarmastiffs.com/ to see several of Tonkaís Intl. Am. Can. Champion Offspring, including Intl.Am.Can.Ch. Stellarís Enter Sandman, Grand Futurity winner at the 2002 MCOA National Specialty, plus more up and coming outstanding youngsters sired by Tonka, and bred by Stellar Mastiffs.
Tonka is available to tested and approved bitches (Stud service by frozen only).

Published Photos: 
  MCOA Journal, 1996#2, page 57.  MCOA Journal, 1996#3, page 26.
  MCOA Journal, 1997#2, Inside Front Cover
  MCOA Journal, 2006 #2. p.85, MCOA Journal 2007 #1, p. 43

Published Offspring:
  H And It's Milady Miriah OFAg28
  H And It's Squirt Kane
  Ivy Trail Stellar Bull Dozer CERF
  Intl.Am.Can.Ch. Rastman OFAg42,OFEL,CERF
  Stellar's Aurora Borealis OFAg26,OFEL,CERF
  Stellar Bailey My Love OFAg31,OFEL,CERF
 *Intl.Am.Can.Ch. Stellar's British Sterling, CGC OFAg26,OFEL,CERF
  Intl.Am.Can.Ch. Stellar's Clair de Lune OFAf24,OFEL,CERF
 *Intl.Am.Can.Ch. Stellarís Enter Sandman OFAg28,OFEL,CERF
  Intl.Am.Can.Ch. Stellar's Evening In Paris, CGC OFAg34,OFEL,CERF
  Intl.Am.Can.Ch. Stellar's Glory Hallelujah OFAe,OFEL,CERF
  Stellar's Integra OFAg32,OFEL,CERF
  Intl.Am.Can.Ch. Stellar's Majestic Kuma OFAg26,OFEL,CERF
 *Intl.Am. Can.Ch.Stellar Mighty Manfred v Systo, CGC OFAg29,OFEL,CERF
  Intl.Am.Ch. Stellar's Moonlight Dancer CERF
  Stellar's Mufasa Of Pride Rock OFAg25,OFEL,CERF
  Stellar's Northern Exposure OFAg32,OFEL,CERF
  Intl.Am.Ch. Systo White Oaks Stellar Mag

Published Full Siblings:
  Seymour Stormy Simba
  Ch.Windy Mts Avery OFAg28,OFEL,CERF
  Windy Mts Blackstone Fancy OFAg25
  Ch. Windy Mts Carmenghia

Owner:
  NAME       : Louise Roland
  E-MAIL     : Stellarmastiffs@cs.com
  KENNEL NAME: Stellar
  ADDRESS    : 6826 Daffodil Ter.,  Ferndale, WA 98248
  PHONE      : (360) 366-4256
Breeder: T. Lane