Ch. Avalon Tucson Warrior, CGC,TDI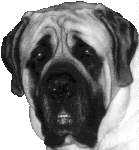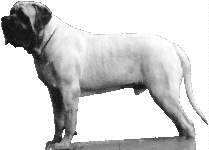 AKC#: WP369277/02     BORN: 8/28/1991     PROVEN: yes
Description:
  COLOR     : silver fawn		WHITE MARKINGS: none
  MASK      : standard, black ears	COAT          : short
  HEIGHT    : 34			WEIGHT        : 235
  BITE      : scissors			EYE COLOR     : dark
  BONE SIZE : huge / large		TAIL          : standard / long
  ANGULATION: moderate			NAILS         : all black
Health Exams:
  HIPS     : OFA MF-1444G24M		ELBOW: OFEL MF-156
  EYES     : CERF MF-477/94-34
  THYROID  : normal			vWD  : normal  vWF:Ag: 90%
  PATELLAS : OFA MF-PA367/100M/P-T	HEART: OFA MF-CA251/94M/C		
Temperament: CGC, TDI
  ATTITUDE TOWARD OTHER DOGS    : friendly
  ATTITUDE TOWARD STRANGERS     : friendly
  ATTITUDE TOWARD NEW SITUATIONS: at ease

Pedigree:
					*Ch. Deer Run Ezekiel
			-Ch. Lionsire Ironhill Warleggen
					-Ch. Farleys Eledwhen Steelsheen
  SIRE: Ch. Iron Hills Warwagon
          OFA MF1041G60M		-Ch. Deer Run Wycliff
			-Ch. Iron Hills Elbereth
					-Tasha Farley's First Lady

					-Deer Run Randall
			-Sir William Of Deer Run
					-Sugar Layne
  DAM:  Ch. Niniane The Enchantress
          OFA MF1004G24F,OFEL		-Ch. Oak Ridge's Janus
     			-Ch. Axtell Meyer's Andromeda
					-Ch. Peersleigh Bridgewood Blair

Comments: 12/94
Tucson displays superior breed type, size, and bone, a good top line, excellent temperament, and above all, soundness. Tucson is a multiple group placer ('92, '93 and '94). In 1993 he took the first award of merit at the MCOA Specialty in Fort Worth, Texas. After 22 shows this year, Tuscon is ranked in the top 10.
A champion, Tucson also has his Canine Good Citizenship and Therapy Dog International certificates. Tucson is a five star mastiff: OFA, OFEL, CERF, thyroid and vWD clear. He stands 34 inches at the shoulder and currently weighs 210 pounds.
Frozen semen available.
Tucson is loved and admired by all. He is a true warrior and one of the largest dogs on the show circuit. Tucson is owned and loved by Ken and Randy Harper.

Published Photographs:
  MCOA Journal, 1992#4, page 51.
  MCOA Journal, 1993#2, page 69.
  MCOA Journal, 1993#3, page 21.
  MCOA Journal, 1994#4, page 95.

Published Offspring:
  Cardell's Tucson Ironman
  Ch. Doing The Watucsi At Lazy D OFAf25
  Dragonhalls Coat Of Arms
  Dragonhall Tucson And Tonka's OFAg26,OFEL
  Gabniel Of Peacock Ridge OFAg32
  Grizzlys Total Eclipse OFAg30
  Ch. Hurry Up CPV Delivered To Win OFAg25,OFEL
  Ch. Hurry Up Tucson Future Double OFAg24
  Ch. Hurry Up Tucson's Warhawk OFAg30,OFEL
  Jim's Cujo
  Lionhearted King Of Midnight, CGC OFAg25,OFEL,PRADNA
  Majestiks Logan's Run OFAf31,OFEL
  Majestik Niles Of Bailiff CERF
  Ch. Majestiks Swords Of Steel OFAe25,OFEL
  Majestiks Warlord Warrior
  Ch. Medallion Tucson Moon Child OFAg24,OFEL,CERF
  Merrymug Wesberry Dixie
  SA.Ch. Monarch's Lady Courtney CERF
  Monarch's Lady Tiffany OFAg25,OFEL,CERF
  Monarch's Subigre's Fire & Ice, CGC CERF
  Monarch's Two Step Tasha OFAg32,OFEL,CERF
  Odysseus Returns OFAg25
  Pedersen Ridge Lazy D's Daisy CERF
  Ch. Stone's Throw Warlady Taylor CERF
  Ch. Tucsons Brindle Beauty
  Tucsons Chooky Gypsy OFAg24,OFEL,CERF
  Tucson's Road Warrior Conan OFAe24
  Ch. Warlords Jewel Of Tucson
  Ch. Warlords Lady Chelsea OFAg30,OFEL
  Warlords Le Duc Du Rive
  Ch. Warlords Sheeba
  Warlords Thorn Of Tucson
  Zekiah Anigetyogun

Published Full Siblings:
  Ch. Avalon Hill Thunder Road
  Ch. Avalon Lord Cearbhallain, CD,WD,CGC,TDI OFAg24,OFEL
  Avalon Morgan La Fey OFAf27,OFEL
  Avalon Myman V Mastiff Cove OFAe26,CERF

Owner:
  NAME       : Randy E. Harper
  E-MAIL     : Tucsonknl@alltel.net
  KENNEL NAME: Warrior
  ADDRESS    : 18 Rose Drive,  Columbia, SC 29205
  PHONE      : (803) 782-3366
Breeder: C. Angus