Ch. Burns Hall Zackery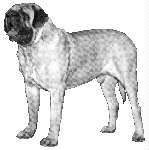 AKC#: WG271308     BORN: 11/5/1988     PROVEN: yes
Description:
  COLOR     : fawn			WHITE MARKINGS: none
  MASK      : standard, black ears	COAT          : short
  HEIGHT    : 32			WEIGHT        : 206
  BITE      : reverse scissors		EYE COLOR     : dark
  BONE SIZE : huge			TAIL          : standard
  ANGULATION: moderate			NAILS         : all black
Health Exams:
  HIPS     : OFA MF-1175G42M		ELBOW: pending
  EYES     : CERF MF-343/92-48
  THYROID  : normal			vWD  :
Temperament:
  ATTITUDE TOWARD OTHER DOGS	: friendly
  ATTITUDE TOWARD STRANGERS	: friendly
  ATTITUDE TOWARD NEW SITUATIONS: at ease

Pedigree:
					-Ch. Deer Run Wycliff
			-Ch. Deer Run Ivan
					-Tasha Farley's First Lady
  SIRE: Ch. Deer Run Ezekiel
          OFA MF426			-Ch. Grand Duke O'Fern
			-Le Mar's Sally
					-Le Mar's Little Gem

					-Ch. Deer Run Zachary
			-Ch. Iron Hills Rocky Hill Thor
					-Ch. Iron Hills Elbereth
  DAM:  Ch. Thorchelseaias Noel
					-Ch. Iron Hills Mithrandir
			-High Spirits Chelsea
					-Ch. Deer Run Countess Inez

Comments: 6/95
9/95 Not available as a stud dog.
Zack is a strong, well balanced active older gentleman. He posesses great dignity but has the personality of a giant clown which he shares with us on occasion. We at Misty Meadows feel blessed to share our lives with him.
He is a tightly line bred dog that, correctly bred, can produce good bone, great head type and has proven this repeatedly, by producing champions, including MCOA National Specialty Best Of Breed winner Am.Can.Ch. Matts Joshua Of Dogwood Knoll.

Published Photographs:
  MCOA Journal, 1993#3, page 86.
  MCOA Journal, 1993#1, page 47.
Published Offspring:
  Ch. Archibald Of Dogwood Knoll
  Brewster Of Dogwood Knoll
 *Burns Hall Zee B Zacharia
  Burns Predator Of Dogwood
  Ch. Enchanted Acres Duke Of Pearl
  Ch. Enchanted Acres Jazzy Zach
  Am.Can.Ch. Matts Joshua Of Dogwood Knoll
  Ch. Night Stalker Enchantress OFAe28,OFEL,CERF
  Night Stalker Rude Rudy
  Ch. Night Stalker Sillars Clyde OFAg24
  Ch. Plantation Roll With It Baby, CGC,TDI OFAf24,OFEL
  Silver's Renegade King Arthur
  Ch. Silver's Sweet Ellinore Rigby
  Ch. Silver's Texas Tea
  Silver's Vanguard Shere Khan
  Ch. Silver's Zeze Tops
  Thunderstruck Flighta Fancy
  Willow Run Big Deacon
Published Full Siblings:
  Ch. Burns Hall Avis Of Ironlion OFAg36
 *Burns Hall Brutuss
  Ch. Burns Hall Jamie Lou
  Ch. Burns Hall Mavis Of Ironlion
 *Ch. Burns Hall Pharoh
  Ch. Burns Hall Zekeial OFAg28

Owner:
  NAME       : M. Marlene Blethen
  E-MAIL     : mmmmar56@aol.com
  KENNEL NAME: Misty Meadows Mastiffs
  PHONE      : (717)337-0157
Breeder: B. & R. Burns