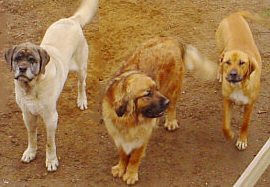 Deb Jones' Home Page
If you haven't already guessed, I am an Old English Mastiff (OEM) fancier. The picture above is of our "Meagles" Stan and Ollie and our Mastiff Harper. Click on the picture to see the boys actually running around - takes a while to load. They are total opposites in everything and both delightful.
As part of the MCOA PRA Study they had their eyes examined by Dr. Acland of the Baker Institute several times. They do not have PRA, but two of their siblings do, Murphy and Sabrina. PRA in Mastiffs (and Bullmastiffs) is dominant and there is now a DNA test available thru OptiGen, www.optigen.com, to determine if a Mastiff has the gene that causes PRA.
You can get to the index page for this site from any page by clicking on the mastiff,

, in the upper left corner.
| | |
| --- | --- |
| | This web site provides a lot of information about mastiffs, including litters, books, health, titles, the AKC standard, links to other web sites about Mastiffs, and detailed information, including pictures, for over 200 Mastiff stud dogs of the past and present. This information comes from the Mastiff Stud Dog Register, The Mastiff Reporter, and other articles written by breeders. |
If you have questions or comments please send me mail.
---
Would you like to see some more pictures of my mastiffs?

---
This page is maintained by Debora L. Jones (djones@devinefarm.net) in Huntingtown, Maryland (U.S.A.).

This page created September 5, 1995.