Intl.Mex.Am.Ch. Cee-Cee's Mister Bentley, CGC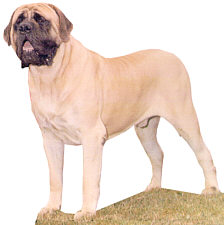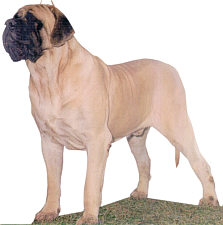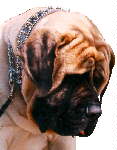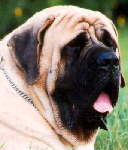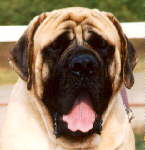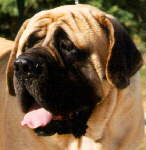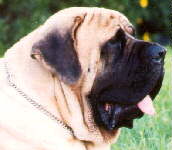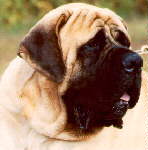 AKC#: WP63793101    BORN: 5/5/1995    PROVEN: yes
Description:
  COLOR     : fawn			WHITE MARKINGS : none
  MASK      : standard, black ears	COAT           : short
  HEIGHT    : 34 1/2			WEIGHT         : 235
  BITE      : scissors			EYE COLOR      : dark
  BONE SIZE : large			TAIL           : standard
  ANGULATION: well angulated		NAILS          : more black than white
Health Exams:
  HIPS      : OFA good MF-2747G26M-T	ELBOW	: OFEL MF-EL686-T
  EYES      : CERF MF-893/96-15, CMR carrier		
  THYROID   : OFA MF-TH44/27M-T
  vWD       : normal			PATELLAS: OFA MF-PA131/26M-T
  PRADNA    : Homozygous Normal (clear)
Temperament: 
  ATTITUDE TOWARD OTHER DOGS     : cautious / friendly
  ATTITUDE TOWARD STRANGERS      : friendly
  ATTITUDE TOWARD NEW SITUATIONS : at ease
Pedigree:  
							-Ch. Lionsire Ironhill Warleggen
				-Ch. Iron Hills Warwagon
				    OFA MF1041G60M	-Ch. Iron Hills Elbereth
  SIRE: Ch. Acorn Hills Uther Pendragon, CGC,TDI
            OFA MF1158G24M,OFEL,CERF			-Ch. Deer Run Ivan
				-Arrabelle Of Acorn Hill, CD
							-Deer Run Lucrich

							-Ch. Tamarack Warlord
				-Int.Am.Mex.Ch. Tamarack Top Gun Gunner
				    CERF		-Tamarack Vanessa
   DAM: Ch. Cee-Cee Sharmaine
            OFA MF1046G27F				-Ch. Tamarack Warlord
				-Tamarack Amanda
							-Tamarack Vanessa

Comments: 10/96, 8/97, 12/99, 11/04
Champion at 10 months - 20 Best Of Breeds by 2 years.
Great Temperament.
Produced first litter of 11 puppies at 16 months of age with chilled semen. DNA registered.
Frozen semen only.
Requirements for bitches: proof of OFA/OFEL/CERF - brucellosis negative within 10 days of breeding and pictures, video tape and pedigree of bitch.

Published Offspring:
  Comstocks Dream Keeper OFAf41,OFEL,CERF
  Lyndesfarne Call Me Mister
  Ch. Maplewind Sweet Mercedes
  Mtn Oaks Cody Boy OFAg24,OFEL
  Ch. Mtn Oaks Ellie Mae OFEL
  Mtn Oaks Floyd OFAg63,OFEL
  Mtn Oaks Gellius OFAg28,OFEL
  Ch. Mtn Oaks Maya Audrey OFAg28,OFEL
  Ch. Mtn Oaks Mikayla
  Ch. Mtn Oaks Molly OFAf45,OFEL
  Mtn Oaks Samantha OFAg39,OFEL
 *Mtn Oaks The Great Gatsby OFAf42,OFEL
  Mtn Oaks Witch Of The West OFAg25,OFEL
  Pendragon Calgar E's Panache CERF
  Pendragon's Daizee Do-Right, CGC,TDI OFEL,CERF
  Ch. Pendragon Hailstone Highlander OFAf30,CERF
  Pendragon Mountain Maycee OFEL
  Ch. Pendragon Paisley A. Wilith OFAg25,OFEL
  Ch. Rough Magic Cee-Cee's Zo-E OFAg27,OFEL,CERF

Owner:
  NAME       : Carol Vivonia
  KENNEL NAME: Cee-Cee
  CONTACT    : Valerie Thomas
  E-MAIL     : terry5292@sbcglobal.net
  KENNEL NAME: Castle Creek Mastiffs
  ADDRESS    : P.O. Box 1918 Beaver, Utah 84713
  PHONE      : (760) 855-0365 
Breeder: owner