Ch. Acorn Hill Uther Pendragon, CGC,TDI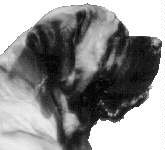 AKC#: WG491508    BORN: 4/25/1990    PROVEN: yes
Description:
  COLOR     : fawn				WHITE MARKINGS: small spot on chest
  MASK      : standard, black ears		COAT          : medium
  HEIGHT    : 36				WEIGHT        : 240
  BITE      : scissors				EYE COLOR     : dark
  BONE SIZE : huge				TAIL          : standard
  ANGULATION: stifle moderate/hock straight	NAILS: all black
Health Exams:
  HIPS     : OFA MF-1158G24M-T,prelim good	ELBOW: OFEL MF-EL24-T
  EYES     : CERF MF-302/98-96			HEART: OFA MF-CA6/72M/T
  THYROID  : normal				vWD  : normal   vWF:Ag: 140%
  PATELLAS : OFA MF-PA51/71M/T
Temperament: CGC,TDI
  ATTITUDE TOWARD OTHER DOGS    : friendly
  ATTITUDE TOWARD STRANGERS     : friendly
  ATTITUDE TOWARD NEW SITUATIONS: at ease

Pedigree:
					*Ch. Deer Run Ezekiel
		-Ch. Lionsire Ironhill Warleggen
					-Ch. Farleys Eledwhen Steelsheen
  SIRE: Ch. Iron Hills Warwagon
          OFA MF1041G60M		-Ch. Deer Run Wycliff
		-Ch. Iron Hills Elbereth
					-Tasha Farley's First Lady

					-Ch. Deer Run Wycliff
		-Ch. Deer Run Ivan
					-Tasha Farley's First Lady
  DAM:  Arrabelle Of Acorn Hill, CD
					-Ch. Deer Run Zachary
		-Deer Run Lucrich
					-Deer Run Myra

Comments: 11/95 NO LONGER AVAILABLE AS A STUD DOG
Best Overall 12-18 mo. - MCOA National Specialty - 1991. Sweepstakes winner (2nd) MCOA Specialty 1991. Finished champion, CGC, TDI, used extensively as a therapy dog. Outstanding temperament.
Outstanding head, type, bone, scissors bite, strong topline, long tail, extremely tight shoulders, dark eyes and pigment, large round feet. Has produces large, sound, free moving puppies.
Strengths: size, type, bone, scissors bite, pigment, topline, soundness, feet, length of tail, all black nails. Beautiful temperament.
Weakness: could use more angulation in hocks.
Requirements for bitches: OFA hips or proof of clear hip x- rays, negative brucellosis within 21 days of breeding, strong well angulated rear, good temperament, overall soundness, pictures and pedigree.
Fresh chilled semen available.

Published Photographs:
  MCOA Journal, 1992#2, page 16.
  MCOA Journal, 1993#1, page 37.
  MCOA Journal, 1994#1, page 16.
  MCOA Journal, 1994#2, cover.
  MCOA Journal, 1995#1, page 42.

Published Offspring:
  Ch. Acorn Hill Silent Knight OFAe27,CERF
  Acorn Hill The Last Noel OFAg24,CERF
  Ch. Acorn Hill Wind Chime OFAg30
  Acorn Hill Wolfgang Amedeus OFAf33
  Ch. Agape's Allshookup At Newgate OFAe25,OFEL
  Ch. Agape's Apollo Loves Me Tender OFAf28,CERF
  Am.Can.Ch. Agape's Vision Unfolds, CGC OFAg31,OFEL,CERF
  Bandit Of Willow Hill
 *Ch. BrickHouse's Total Package, CGC CERF
 *Ch. Cee Cee Mister Bentley, CGC OFAg26,OFEL,CERF
  Ch. Crystal Mtn Boceephus GA, CGC,TDI
  Ch. Crystal Mtn Brutus Von Meck OFAg37,OFEL
  Crystal Mtn Ember Of Windridge
  Crystal Mtn Kate Of Thunder Run CERF
  Ch. Crystal Mtn Lady Amber
  Ch. Crystal Mtn Red Star
  Crystal Mtn Uther's Bear OFAg24
  Ch. Guardia's Dream Of Mt Royal OFEL
  Guardia's Prudence
  Ch. Guardia's Roll Of The Dice
  Ironclads Unknown Rider CERF
  Khaki Kegley OFAg24
  King Downs American Pie
  Legendary Daniel Boone
  Ch. Lyndesfame Center Stage
  Newgate Amazing Grace
  Newgate Canterburys Chaucer CERF
  Ch. Newgate Field Marshal Monty
  Newgate ZMH Countessa Adile OFAg26,OFEL
  Ch. Pegasus Country Silver Charm OFAe24,OFEL,CERF
  Ch. Pegasus Southpaw Bear Rug OFEL
  Pegasus Southpaw Rad N Bad, CD CERF
  Pendragon Attn To Detail
 *Ch. Pendragon Bailiffs Farlough, CGC OFAg38,OFEL
  Pendragon's Camelot Ladee OFAg24,OFEL,CERF
  Ch. Pendragon Cara Del Sol OFAf27,OFEL,CERF
  Pendragon Dakota Beau
  Ch. Pendragon Leona Dillarez, CGC,TDI OFAg29,OFEL,CERF
  Pendragon Peach Blos'm Special
  Ch. Pendragon Sir Einstein CERF
  Pendragon Sir Norby Of Hollymont
  Pendragon Tazmanian Ike
 *Ch. Pendragon WYSIWYG WUHFGUDE, CGC OFAg26,OFEL,CERF
  Penelope's Promise
  Ch. Sonrise Cheyenne Nellie
  Ch. Sonrise Kay Ne Tah OFEL
  Sonrise Tecumseh Of Pendragon
  Sugarfoot Golden Lady
  Sugarfoot Harley Cruiser
  Sugarfoot Lady Victoria OFAf41,OFEL
  Ch. Sugarfoot Lug' O Celtics
  Ch. Sugarfoot Merrie Madeline, CGC OFAg31,OFEL
  Sugarfoot Saltwater Taffy CERF

Published Full Siblings:
  Ch. Acorn Hills Aster OFAg31,CERF
  Acorn Hills Betts For Last
  Ch. Acorn Hills Diablo Del Sol
  Ch. Acorn Hills Ethan, CD,CGC OFAg24
  Ch. Acorn Hills Hogan, CDX,CGC OFAe24,OFEL
  Acorn Hills Maroon OFAg24
  Ch. Acorn Hills Morgana Pendragon, CGC,TDI OFAg24,CERF
  Ch. Acorn Hills Mountain Laurel OFAg34
  Ch. Acorn Hills Princess Nika OFAg40
  Ch. Acorn Hills The Joy Of Cyrus

Owner:
  NAME   : Susan & Bill Krauser
  E-MAIL : pendragon@naxs.net
  KENNEL NAME: Pendragon
  ADDRESS: 31185 Blue Springs Rd, Meadowview, VA 24361
  PHONE  : (540) 475-5208
Breeder: M. Owens