Ch. Creekview's Major Montgomery, CD,DD,WD,TDI,CGC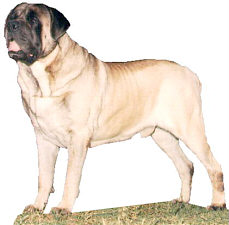 AKC#: WP416785/06     BORN: 5/3/1992     PROVEN: yes
Description:
  COLOR     : fawn			WHITE MARKINGS: none
  MASK      : standard, black ears	COAT          : medium
  HEIGHT    : 32			WEIGHT        : 205
  BITE      : slightly undershot	EYE COLOR     : dark
  BONE SIZE : large			TAIL          : standard
  ANGULATION: over angulated		NAILS         : all black
Health Exams:
  HIPS   : OFA MF-1658G25M		ELBOW: OFEL
  EYES   : CERF MF-609/96-49
  THYROID: normal			vWD  : normal
  PRA DNA: Homozygous Normal (clear)
Temperament: CGC, TDI
  ATTITUDE TOWARD OTHER DOGS    : friendly
  ATTITUDE TOWARD STRANGERS     : friendly
  ATTITUDE TOWARD NEW SITUATIONS: at ease

Pedigree:
						*Ch. Deer Run Ezekiel
			*Ch. Burns Hall Zackery
			   OFA MF1175G42M,CERF	-Ch. Thorchelseaias Noel
  SIRE: Am.Can.Ch. Matts Joshua Of Dogwood Knoll
						-Rapscallion's Sir Winston
			-Ch. Burns Hall Nicole
			   OFA MF1223F53F	-Ch. Night Stalker Sarah Anne

						*Ch. Deer Run Ezekiel
			-Ch. Old School Sergeant Major
			   OFA MF712G35M	-Ch. Old School Ursa Major
  DAM:  Ch. Old School Creekview Major K, CD
          OFA MF1696G52F,OFEL			-Ch. Autumn River Big Ben
          		-Old School Ben's Autumn Major
						-Ch. Old School Ursa Major

Comments: 11/96 9/07
Montgomery has a great disposition, always trying to please. He finished his breed championship out of the puppy class and then went on to receive his CD. Monty has taken many Best Of Breeds and several Group wins. He also took an Award Of Merit at the 1995 Specialty in Nashville. He also finished in the top 20 for Group wins in 1994 and 1995.
For the last two years Monty has competed in team obedience, which is really so much fun. At the St. Louis Specialty Montgomery passed the Mastiff Drafting Test which was very hard to do as I had never seen it done. Monty loves to walk in our local parades and go to nursing homes for a visit. He is a great dog, my best friend.
Frozen semen available.

Published Photographs:
  MCOA Journal, 1993#3, page 18.
  MCOA Journal, 1993#4, page 21.
  MCOA Journal, 1995#1, page 61.
  MCOA Journal, 1995#2, page 46.
Published Offspring:
  Ch. Clearview's Agamemnon
  Coolwater Simply Sophie
  Creekview's Major Darby, CD OFAe25,OFEL,CERF
  Ch. Creekview's Rex OFAg29
  Creekview's Time Will Tell
  Creekview's Ttlwyth Teg
  Gentle Giant Hoss Of Wayne
  Gentle Giant Major Montgomery OFAf24,OFEL
  Gentle Giants Sheba
  GoldCoast De Vine Abagael Noble CERF
  Gold Coasts DeVine Benefaction,CGC OFAe26,OFEL
  Gold Coasts De Vine Damian OFAg24,OFEL,CERF
  Gold Coasts De Vine Domingo OFAg24,OFEL,CERF
  Gold Coasts De Vine Harper OFAg25
  Gold Coasts De Vine Intervention CERF
  Gold Coasts O'Reilly's Eve, TT OFAg24,CERF
  Gold Coasts De Vine Sampson OFAe24,OFEL
  Ch. Handsome Stranger
  Hotlanta Sir Fergus McGomery CERF
  Master Thor
  Megamillions Creekview Major, CD OFAg31,OFEL,CERF
  Ch. Megamillions Monalisa N Madhat OFAe26,OFEL,CERF
  Monarch's De Vine Crusader OFAg24,OFEL,CERF
  Ch. Shadows Downs Major General OFAg26,OFEL,CERF
  Shadows Downs Promised Rose OFAf26,OFEL,CERF
  Ch. Stone's Throw Queen-O-My Heart OFAe42
  Ch. Stone's Throw Wheel-O-Fortune OFAg28
  Ch. Stowaways Duncan Of Dresrhill OFAg31,OFEL,CERF
  Stowaways Quiet Reflection OFAg24,OFEL
  Stowaways Reba Dexter
  Ch. Stowaways Top Hat, CD OFAg27,OFEL,CERF
  Union Jack CERF
  Ch. Victory's Mighty Warrior 2
  Victory's Vangough Celtic Alaunt OFAf24,OFEL

Published Full Siblings:
  Cluny's Josh's Jericho Warrior
  Creekview's Major Annabelle, CD OFAg31,CERF
  Creekview's Nana
 *Ch. Creekview's Plantation Boo Bear, CD,WD,CGC,TDI OFAg24,OFEL,CERF
  Wrightous Daniel Of Creekview

Owner:
  NAME       : Kay Q. Routten
  E-MAIL     : kayroutten@yahoo.com
  KENNEL NAME: Creekview Mastiffs
  ADDRESS    : 8 Creek Landing,  Hampton, VA 23664
  PHONE      : (757) 851-7750
Breeder: owner