Greiner Hall Zechariah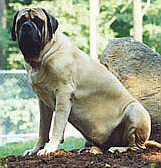 AKC#: WP324504/08    BORN: 11/7/1990     PROVEN: yes
Description:
  COLOR     : fawn			WHITE MARKINGS: none
  MASK      : standard, black ears	COAT          : short
  HEIGHT    : 32			WEIGHT        : 213
  BITE      : scissors			EYE COLOR     : dark
  BONE SIZE : large			TAIL          : standard
  ANGULATION: moderate			NAILS         : all black
Health Exams:
  HIPS   : (see comments)		ELBOW: unknown
  EYES   : CERF MF-/94-46
  THYROID: normal			vWD  : unknown
Temperament:
  ATTITUDE TOWARD OTHER DOGS : friendly
  ATTITUDE TOWARD STRANGERS  : friendly
  ATTITUDE TOWARD NEW SITUATIONS : at ease
Pedigree:
					-Eng.Ch. Hollesley Medicine Man
			-Hollesley Lord Raleigh
					-Eng.Ch. Hollesley Rowella
  SIRE: Ch. Greiner Hall Chadwick
					-Tamarack Donner
			-Tamarack Greiner Hall Zada Of Tamarack
					-Ch. Tamarack Maggie Of Woods

					-Eng.Ch. Hollesley Medicine Man
			-Falmore Hall Fidelio
					-Eng.Ch. Falmore Hall Call Me Madame
   DAM: Greiner Hall Isnor
					-Tamarack Donner
			-Tamarack Greiner Hall Zada Of Tamarack
					-Ch. Tamarack Maggie Of Woods

Comments: 7/98
Zeck is a very friendly, outgoing dog. I have often been told that he would have been my BIS dog, as he is truly a dog that makes himself the center of your attention. He is very much like his brother, Jedadiah, in temperment, except that he is very outgoing and a little pushy when it comes to getting your attention. Very sound, nice moving dog with a lovely head.
He throws very nice offspring and has fathered some lovely pups, although he has never been in the showring - his offspring are doing very well. Ruby, the Gem of Jersey (his daughter) won BOS at Westminister in 1998 and he is the sire of Greiner Hall Falcon, the lovely brindle boy in NJ. Many of his offspring are being used in therapy situations, which makes us very proud.
Due to surgery (because of HOD at the age of 3 to 7 months of age which closed the rear growth plates) he can not be OFA'd. The vet that did the surgery did state that there was no arthritis nor any hip dysplayia present.

Published Offspring:
  Cross Haven Symphony Of Tess OFEL
  Greiner Hall Axton
  Greiner Hall Boaz
  Greiner Hall Falcon
  Greiner Hall Gladtr Achilles
  Greiner Hall Ivan The Bold, CGC OFAg24,OFEL,CERF
  Ch. Greiner Hall Winnifred OFAg27,OFEL,CERF
  Knight's Front Paige Nine
  Ch. Knight's Northampton Blossom OFAe24,OFEL,CERF,PRADNA
  Knight's Obadiah Of Fiedermaus OFAg30,OFEL
  Ch. Lady Ruby The Gem Of Jersey OFAf45,OFEL,CERF,PRADNA
  Lawraleigh's Sweet Revenge CERF
  Ch. Valley View Beau Durham OFAf25,OFEL
  Ch. Valley View Sally Bear All
  Valley View Sam Man Vice
  Ch. Valley View Devon Of Durham OFAf48

Published Full Siblings:
  Greiner Hall Catherine OFEL
  Greiner Hall Grimpinmire OFAg26,CERF
  Ch. Greiner Hall Gypsy
 *Am.Can.Ch. Greiner Hall Jedadiah, CGC,TDI OFAg41,OFEL,CERF
  Greiner Hall Sorcha

Owner:
  NAME       : Charles & Gloria Cuthbert
  E-MAIL     : gcuthb@aol.com
  KENNEL NAME: Mastiffs Of Rydalmount
  ADDRESS    : 6360 Conley Rd,  Concord, OH 44077
  PHONE      : (440) 639-0316
Breeder: S. & L. Napotnik